Posts Tagged 'Anne C. Cools (Senator)'
January 1st, 1998 | Author:
Admin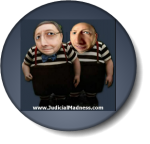 The Hon. Senator Anne C. Cools tabled a bill in the House of Commons (the text is linked below in both languages) numerous times in the years leading up to 1996, but unfortunately, this draft law died on the order paper. The present author is of the opinion that this bill should be tabled one more time, but amended to include judges and the ministers who conspire with lawyers to manipulate procedure.
Read more [...]