Posts Tagged 'chemical lobotomy (Haloperidol/Haldol)'
December 24th, 2015 | Author:
Admin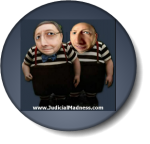 Even under the legislative frameworks that are typical of most modern democratic societies, psychiatry still treads a particularly fine line between benefiting and harming the exercise of human rights. This is largely because the cultural objectives of psychiatry and human rights are, to some extent, opposed to one another. While the basic principle of human rights is to set limits on the degree of social authority which is allowed to be imposed on individuals, the specialty of psychiatry is to fit 'difficult' individuals into the social fabric. These fundamental differences sometimes threaten to turn psychiatry and human rights into antitheses, even in the most benign political conditions.
Read more [...]
Posted in
Topic for Discussion
| Tags:
chemical lobotomy (Haloperidol/Haldol)
,
chlorpromazine
,
Leonid Plyushch (Russian scientist and political dissident)
,
Psychiatric Survivor's Guide
,
psychiatry
,
Richard Gosden
,
Social and Cultural Rights (ICESCR)
,
Soviet psychiatry
,
Soviet Union
,
tardive dyskinesia
,
Thorazine (chlorpromazine)
,
UN Commission on Human Rights
|
Comments Closed