Posts Tagged 'Dr. Évens Villeneuve'
January 17th, 2016 | Author:
Admin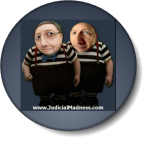 Lawyer Yves-Marie Morissette on his own cannot declare people crazy. Dr. Évens Villeneuve on his own knows no law. But, together, Yves supplies Évens with the alleged "symptoms" (alleged abusive litigation), and Évens obligingly declares Yves's target litigants "crazy". Even more fun, neither Yves nor Évens has ever met the litigants.
Read more [...]
Posted in
Topic for Discussion
| Tags:
Canada
,
Dr. Évens Villeneuve
,
Évens Villeneuve
,
Judicial Declarations of Madness
,
judiciary
,
Lawyer Yves-Marie Morissette
,
quarrelsome
,
quarrelsomeness
,
Quebec
,
querulence
,
querulent
,
Tweedle Yves and Tweedle Évens
,
Yves-Marie Morissette
|
Comments Closed