Posts Tagged 'litigation'
June 16th, 2015 | Author:
Admin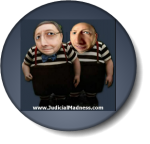 Foreword This featured item is an exclusive English translation of an article in French by Yves-Marie Morrissette, Rhodes Scholar and legal adviser to the veiled Communist Parti Québécois (PQ). (You can read the PQ's Communist manifesto of 1972 or download it from the sidebar at CANADA How The Communists Took Control.) The French article translated here, Pathologie et thérapeutique du plaideur trop belliqueux, first appeared in 2001 in volume 155 of a yearly journal of the Quebec Bar Association.
Read more [...]
Posted in
Topic for Discussion
| Tags:
abuse of procedure
,
abusive procedure
,
Canada
,
litigant
,
litigation
,
pro-se counsel
,
pro-se litigant
,
Quebec
,
querulent
,
querulous
,
self-represented litigant
,
vexatious
,
vexatious litigant
,
Yves-Marie Morissette
|
Comments Closed