Posts Tagged 'Parkinsonism'
February 2nd, 2014 | Author:
Admin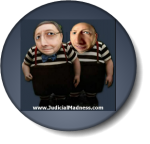 It's called Haldol. The generic name is haloperidol. It's classified as an "anti-psychotic". You'll read that Haldol is being phased out in the US, but PM: The Essential Resource for Pharma Marketers reports that Haldol accounts for 5% of anti-psychotic prescriptions handed out between 2010 and 2011. That's 2.7 million prescriptions for Haldol. In one year, in the US. The major and frequent adverse effects of the drug? Akathisia (the irresistible and painful impulse to keep moving, the inability to sit still), dystonia (severe muscle contractions that twist the body grotesquely), and Parkinsonism. In short, torture. All three of these effects can indicate motor brain damage.
Read more [...]